Antibody testing
About the study
Antibody detection is an essential tool for monitoring infection and immunity in a population.
We can detect antibodies in saliva, therefore eliminating the need to take a blood sample. This makes saliva particularly well suited to surveillance in school settings.
We developed antibody tests to determine if pupils and staff had recently been infected with SARS-CoV-2 by measuring IgA and IgG antibody to spike protein. These tests also provide information on immune responses to vaccination.
Knowing who has been infected with SARS-CoV-2 helps us understand transmission in school settings. You can learn more about how these tests work in the following infographic.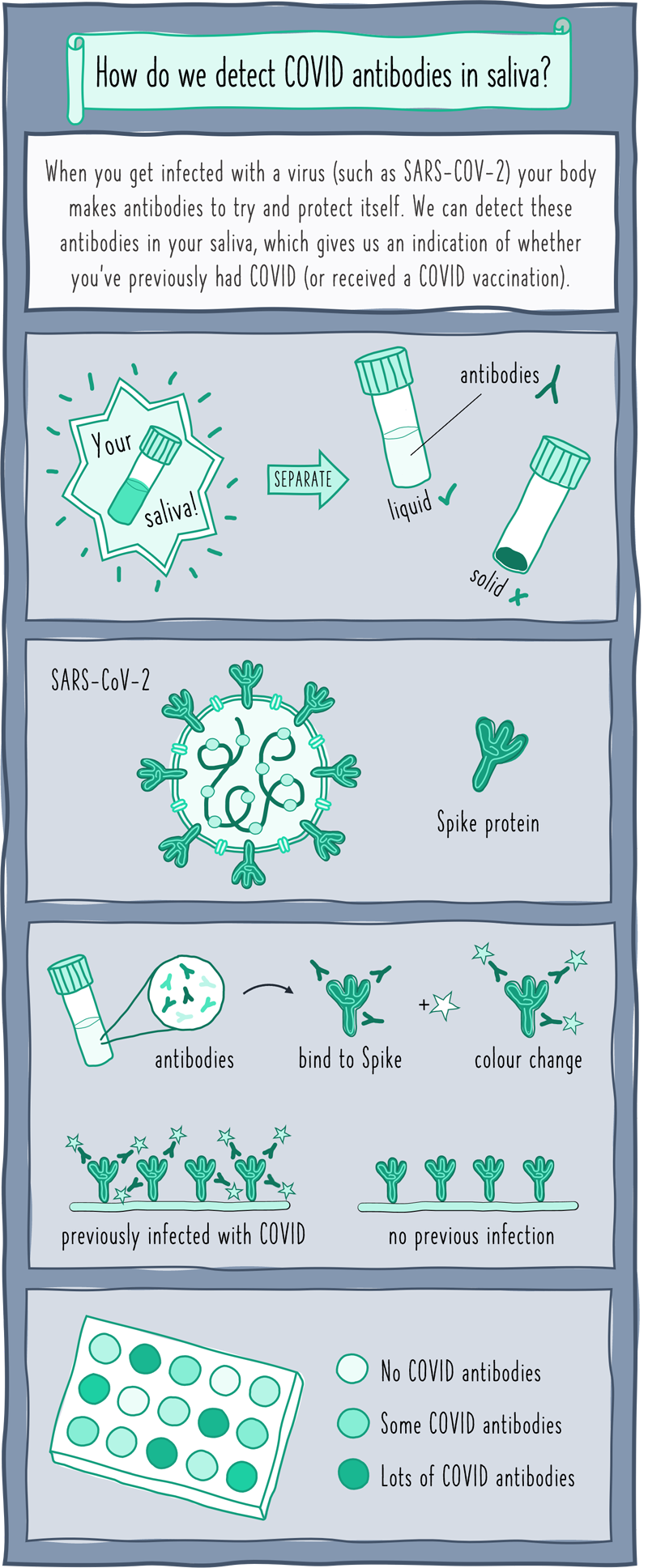 The illustration shows a simplified cartoon depiction of how we test for COVID antibodies in saliva:
First, saliva samples are spun really fast to separate out the liquid part that contains the antibodies that we're interested in.
Next, we make Spike protein in the lab that is identical to the one on the surface of the SARS-CoV-2 virus.
We attach multiple copies of this Spike protein to a plastic plate and add the saliva sample on top.
If the saliva is from an individual who has previously been infected with COVID (or been vaccinated), the antibodies in their saliva will stick to the Spike protein. Adding a special chemical causes a colour change if these antibodies are present, with a darker colour indicating higher antibody levels. If the colour doesn't change then it's likely that the saliva came from an individual who hadn't been recently infected.
Results
From November 2020 to July 2021 we tested 6696 samples for antibodies. We observed a consistent pattern in overall antibody positivity by age: on average, antibody positivity (indicative of past infection) was:
highest in staff (~20-30%)
followed by 6th form pupils (~20%)
secondary pupils (15%)
primary pupils (10%)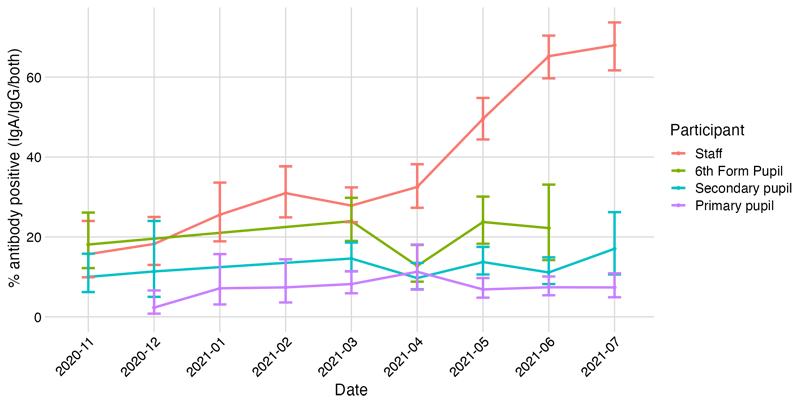 These age differences might be explained by contact patterns and/or different susceptibility profiles. From April 2021 we observed up to 70% of staff with antibodies, largely reflecting responses to COVID vaccination.
These results suggest that salivary antibody surveillance can detect mild infections which can be easily missed using PCR or rapid antigen tests. Research is ongoing and we are investigating what salivary antibody profiles can tell us about immunity following infection and vaccination.
Household study
We have also tested saliva collected in household outbreaks as part of the household substudy. This helped to validate our tests, since individuals had PCR confirmed infection allowing us to see who did and didn't make antibodies following infection. We also saw intriguing responses where exposed household members had high levels of salivary antibody but did not show evidence of infection.
Publications
You can read more about how antibody tests have been developed, evaluated and field-tested in the household study in the following pre-print:
Awards
This work was a collaborative effort by members of the Bristol Vaccine Centre Immunology lab, coordinated by Dr Amy Thomas. In recognition of the innovative nature of this research, she was awarded a Women in STEM (WISE) Data Solution Award for Covid Unsung Heroes.
Amy collected her award from HRH Princess Anne at Windsor Castle in February 2022. Read more about the WISE awards: The COVID Unsung Heroes Awards 2022 - a great success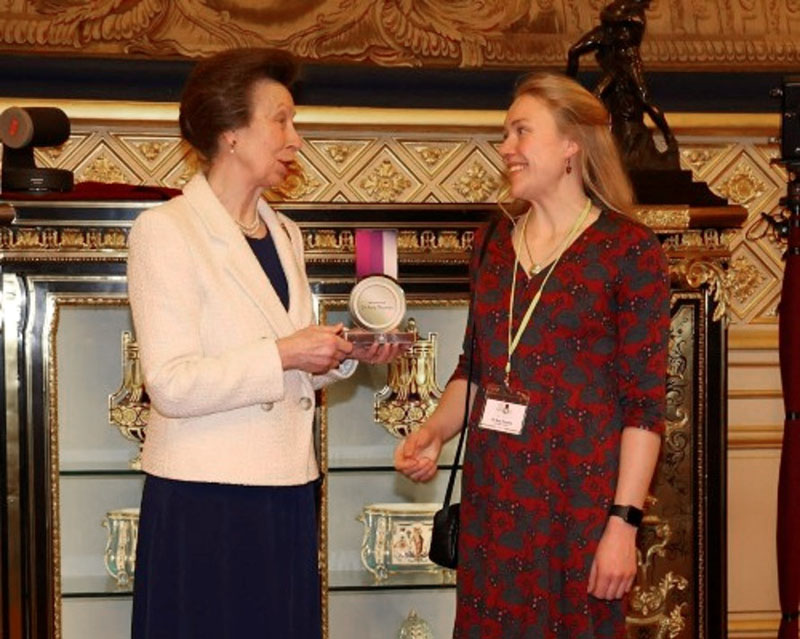 Contact
Immunology Group
Bristol Vaccine Centre
University of Bristol