30 March 2021: Bristol primary school pupils become scientists for a day
Pupils at a Bristol school became scientists for a day to understand more about how PCR testing works to diagnose for Covid-19.
Four Acres Academy is one of many local schools that are taking part in a ground-breaking University of Bristol research project to increase researchers understanding of infection patterns of Covid-19 in children.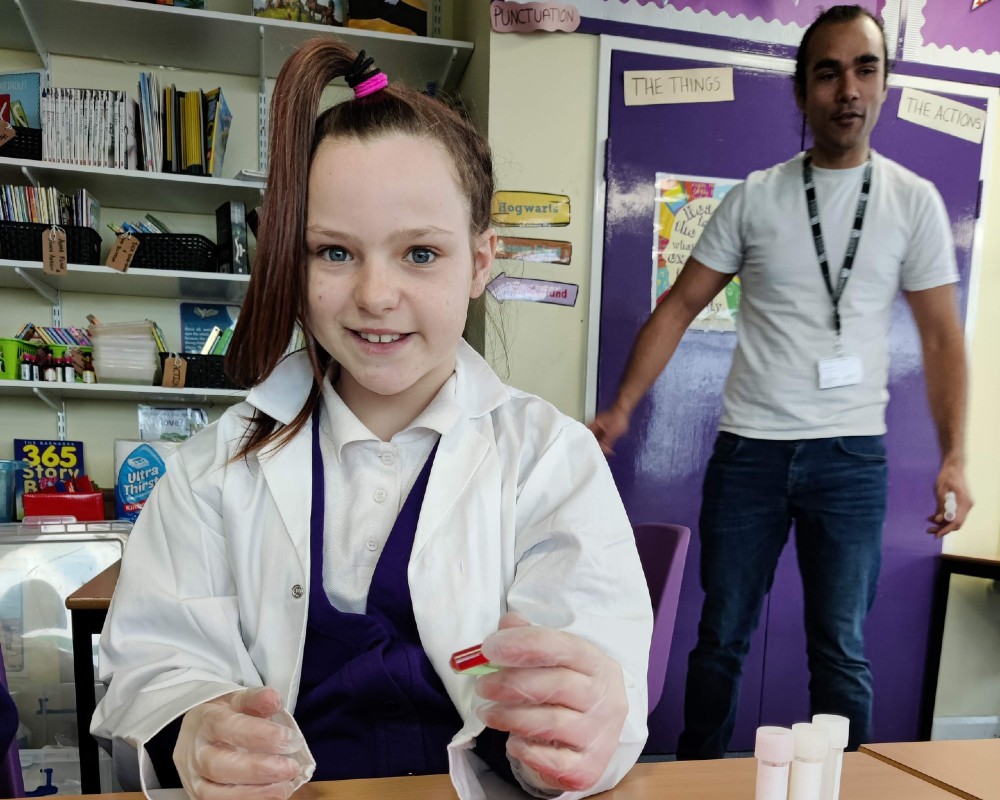 Pupil at Four Acres Academy learning about how PCR testing works to diagnose for COVID-19
Image credit: Four Acres Academy
The project, Covid-19 Mapping and Mitigation in Schools (CoMMinS), began last autumn with saliva-testing several thousand pupils and staff from schools across the city over the course of the school year. Once the researchers have collected the saliva samples, they are taken away to be analysed in a University lab to check for current or previous Covid -19 infection.
Last week [25 March] Year 6 pupils at Four Acres Academy had the opportunity to put on lab coats and PPE and mimic one of the processes that is done to their samples when they arrive at the lab. The pupils collected precise quantities of dyed water samples and blended them together using pipettes. This will help the pupils to understand what the research team do with their saliva samples, how the testing is done and to learn more about the pooled PCR testing process.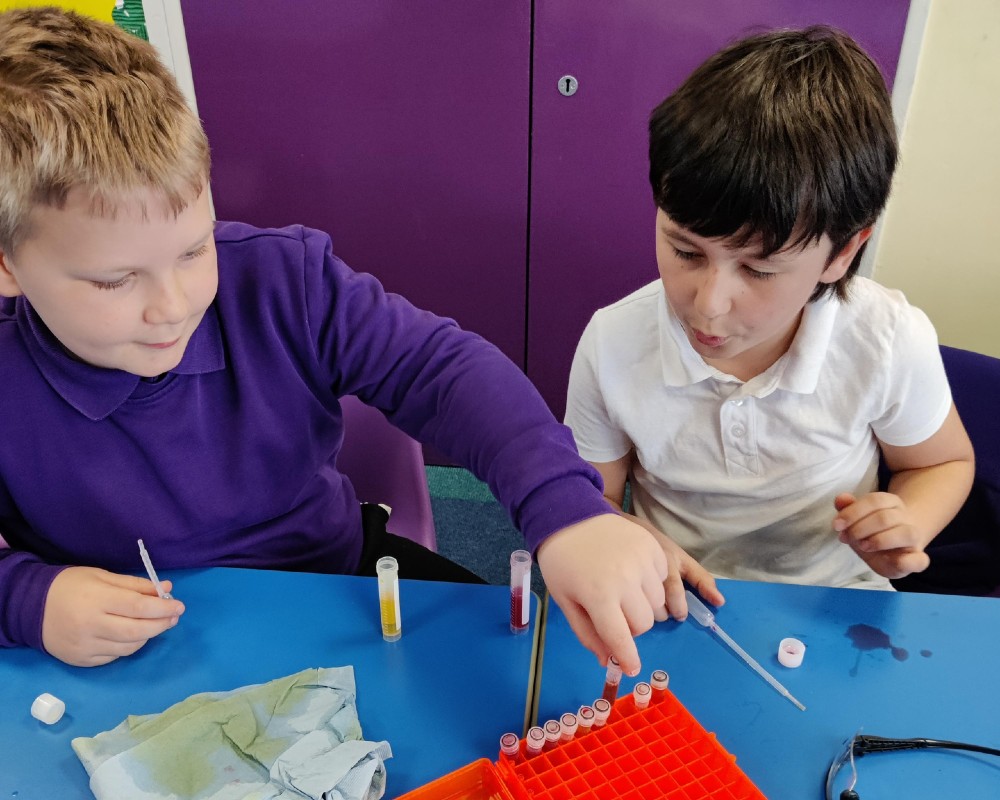 Pupils at Four Acres Academy mimicking PCR testing
Image credit: Four Acres Academy
The hands-on science lesson has been possible thanks to a National Grid Hinkley STEM Project Grant.
Guillaume Livera, Senior Research Fieldworker in the CoMMinS study team at the University of Bristol, who will be running the hands-on science lesson, said:
We are delighted to be able to work with the school to engage young children in science and for them to understand what happens to their saliva sample once it has left the school. By taking part in CoMMinS they are learning more about Covid-19 and how to prevent the spread of the disease. We also explained to the pupils the different members of the team who work in the lab and those delivering the study so they could understand all the different roles and skill sets needed to run a research trial and all the different educational pathways that can lead to working in research.
Matt Cave, Headteacher at Four Acres Academy, added:
Being part of the CoMMinS project has helped in the safe return of children. Our pupils have been looking forward to this for many weeks and it's a great opportunity for them to experience hands-on science not available in the classroom and discover science from real scientists.
The aim of CoMMinS is for researchers to understand patterns of infections, the role of symptoms in identifying infection and the longer-term impacts of Covid-19 in children. The study also aims to provide school heads with the tools to identify cases early so they can keep their schools open and allow the continuity of education.
Covid-19 Mapping and Mitigation in Schools (CoMMinS) is a 12-month NIHR-UKRI-funded study that will run until 31 July 2021.
If you are a local Bristol school and wish to participate in the study, please email: BVC-coordinators@bristol.ac.uk.